WEIGHT PLATE DECALS
TRANSFORM YOUR GYM
HERE'S WHAT OUR CUSTOMERS HAVE TO SAY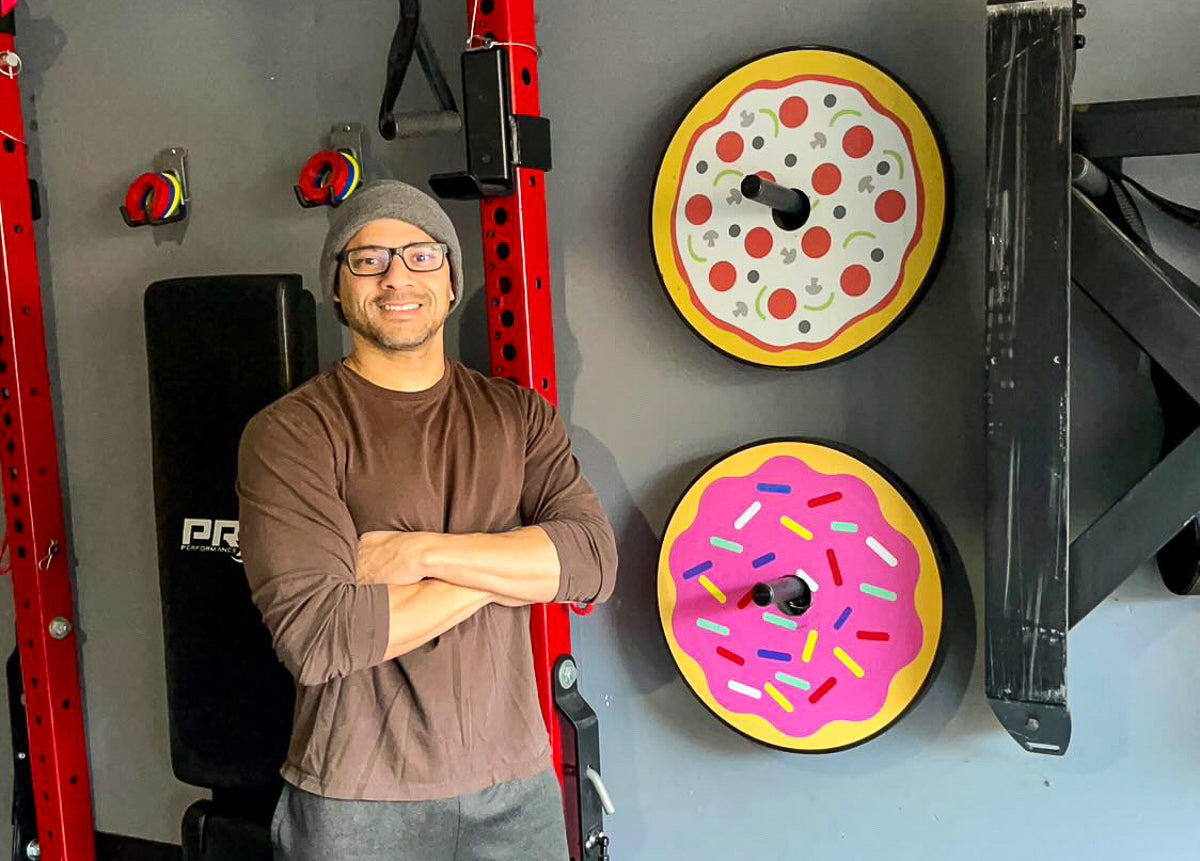 "With Plate Snacks, my old, worn down plates have never looked as good! I love these and they bring so much character to my home gym, everyone is super impressed when they workout at my place!"
- Strict Vision Athletics
"These aren't your average stickers, the thickness and quality of Plate Snacks are far superior to anything else on the market! It was so easy to apply and place in the ideal spot."
- Rob of VintageWeightsPGH
"Plate Snacks are such a fun and inexpensive way to add custom flavors to my home gym! They are so easy to apply and really durable, I've had mine for over a year now and they look brand new!"
- Shredded Dad
CUSTOMIZE YOUR WEIGHT STACKS
Elevate your gym experience and make a statement with our custom weight stack designs. At Plate Snacks, we offer the opportunity to personalize your weight stack machine with unique and eye-catching decals.
From showcasing your gym's branding to adding a touch of personality, our high-quality vinyl decals will transform your weight stack into a work of art. Customize your workout space and make it truly your own with Plate Snacks' custom weight stack designs.
Before
After
FAQs
Most common questions we receive from our customers before and after they purchase from us.
Plate Snacks are vinyl weight plate stickers that are designed to be applied to the back (flat side) of your traditional 2" hole olympic plates.

We also sell Plate Snacks for weight stacks and bumper plates.

They not only add style and personality to your plates, but add some protection and a fresh look.
How Do I Apply Plate Snacks?

Applying the stickers to your plates is pretty simple.

1. Make sure your plate has a clean and dry surface.

2. Sticker on the plate with the backing still on. Take note of the gap around the center hold.

3. Peel the sticker from the backing. Hold with two hands.

4. Focus on aligning the center hold with an equal gap between the sticker and hole.

5. Carefully set the sticker down from the middle to the outside. This will ensure it is even.

6. Starting from the middle slowly get any air bubble out by running your hand over the sticker outward.

7. Continue to press the sticker down by rubbing your hand around the sticker.
Are The Weight Plates Included?
Will The Stickers Wear Down?

Our stickers are made from a strong vinyl which makes them water and sun resistent. Depending on how your plates rub against the stickers, you may notice some marking, but a magic eraser will help remove the marks. These will withstand above average abuse, but like any product, the stickers will begin to wear as friction and other elements take hold of your plates. They are durable but not invincible, so expect some normal wear over time.
How do I prep my weight plates/stacks

The best way to prep the surface is to:

1) Wipe the surface down to remove dust and any debris

2) If the plates are oily like bumpers and some weight stacks, use rubbing alcohol. DO NOT USE household cleaners because most of them contain oils that could prevent the Plate Snacks from properly adhering.

3) let the surface completely dry before applying.