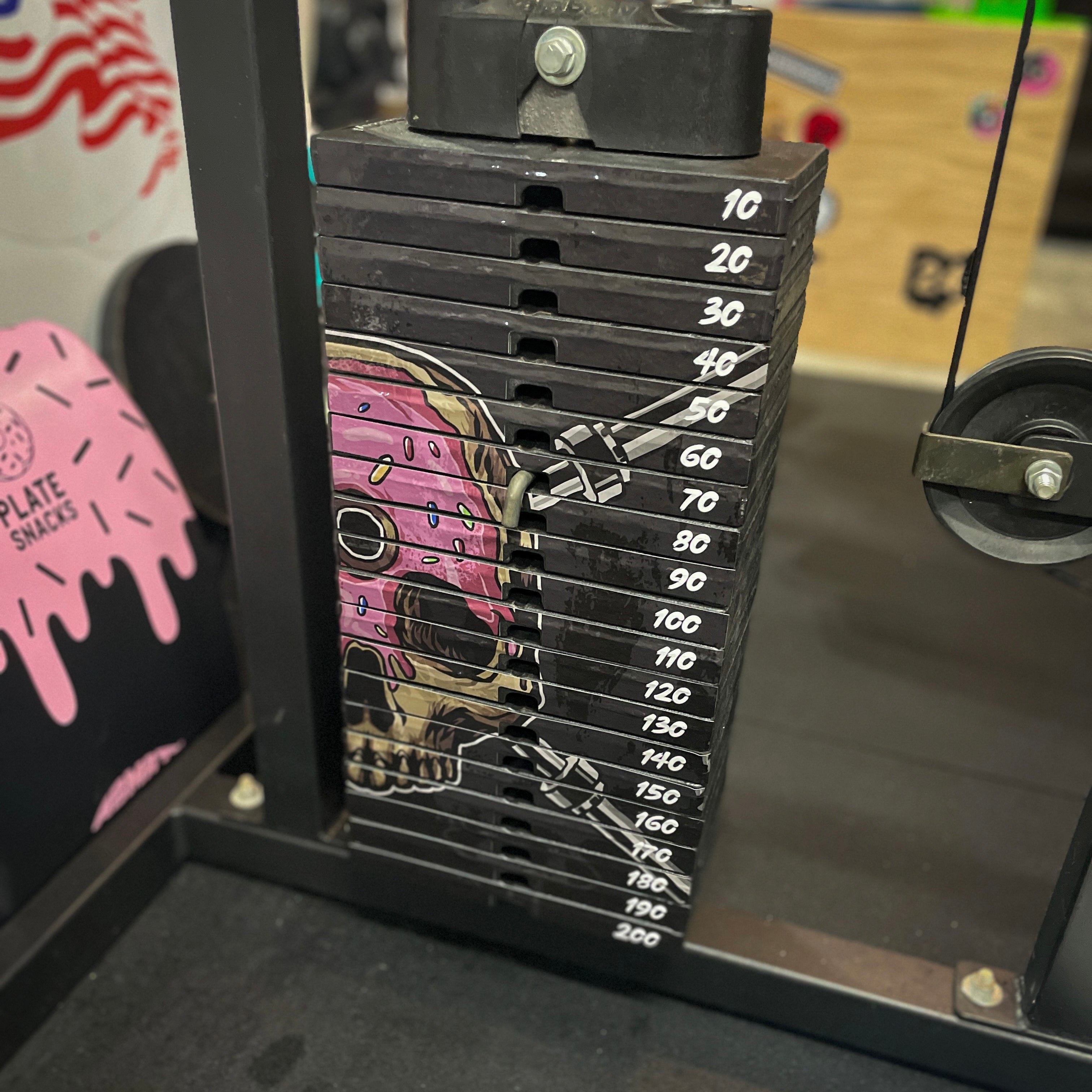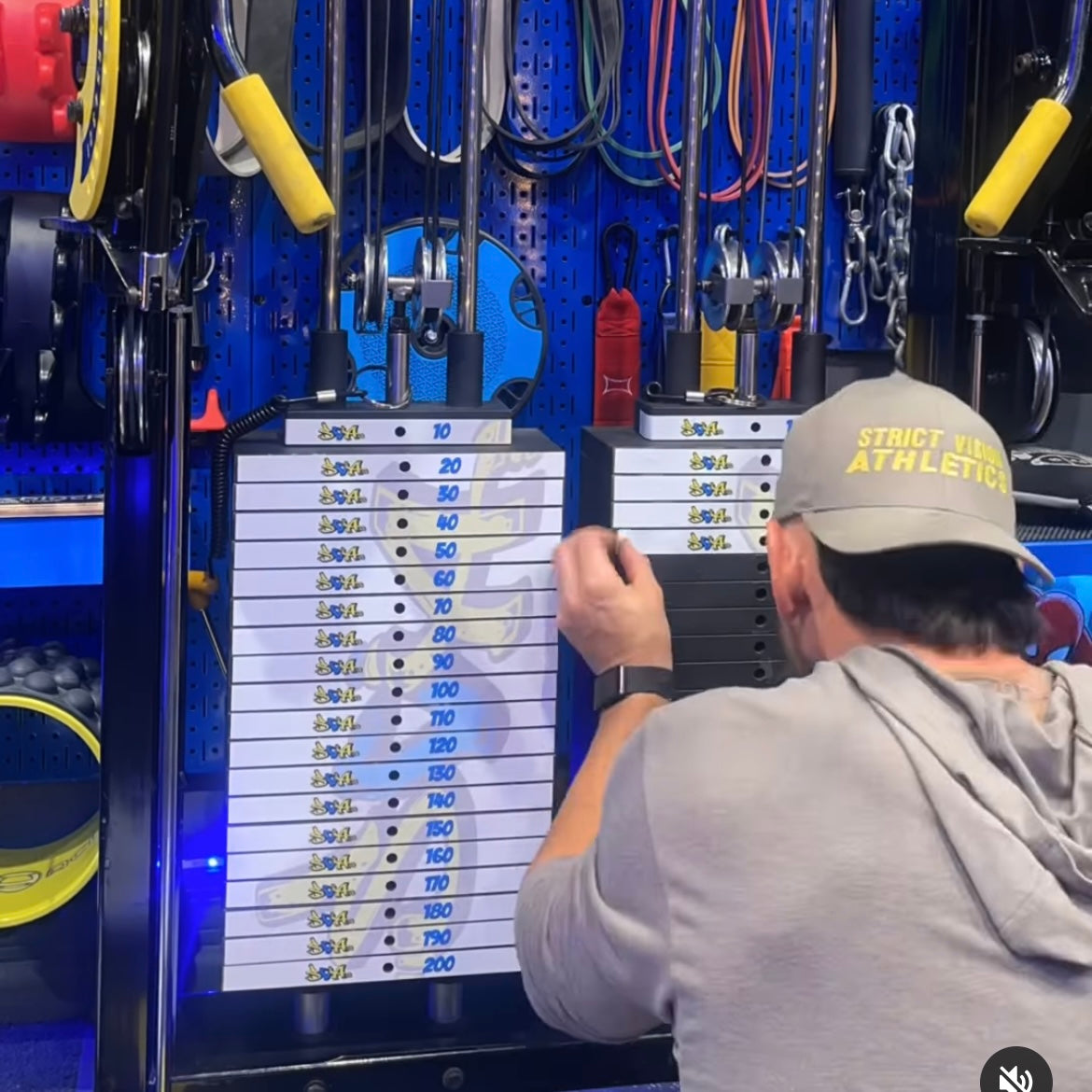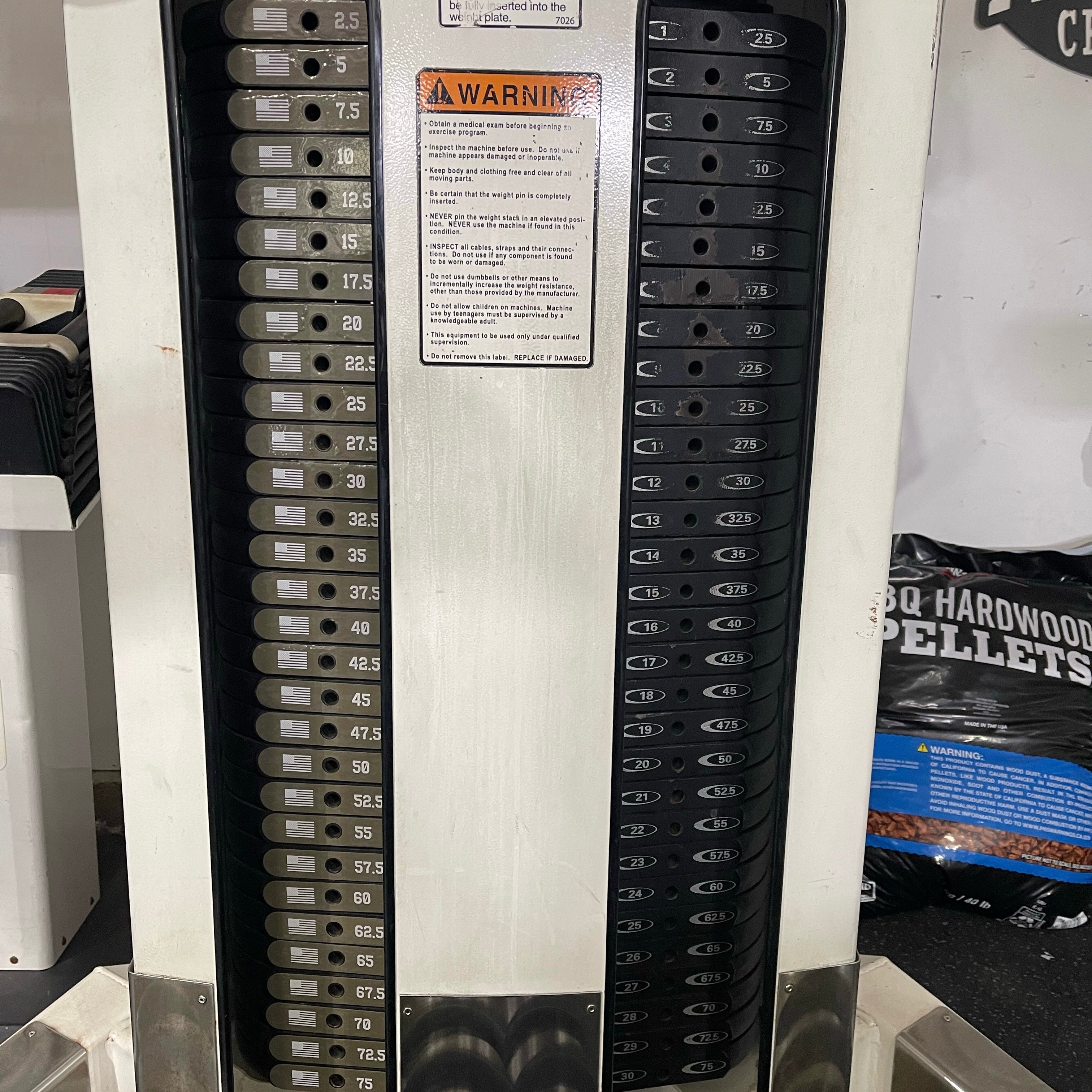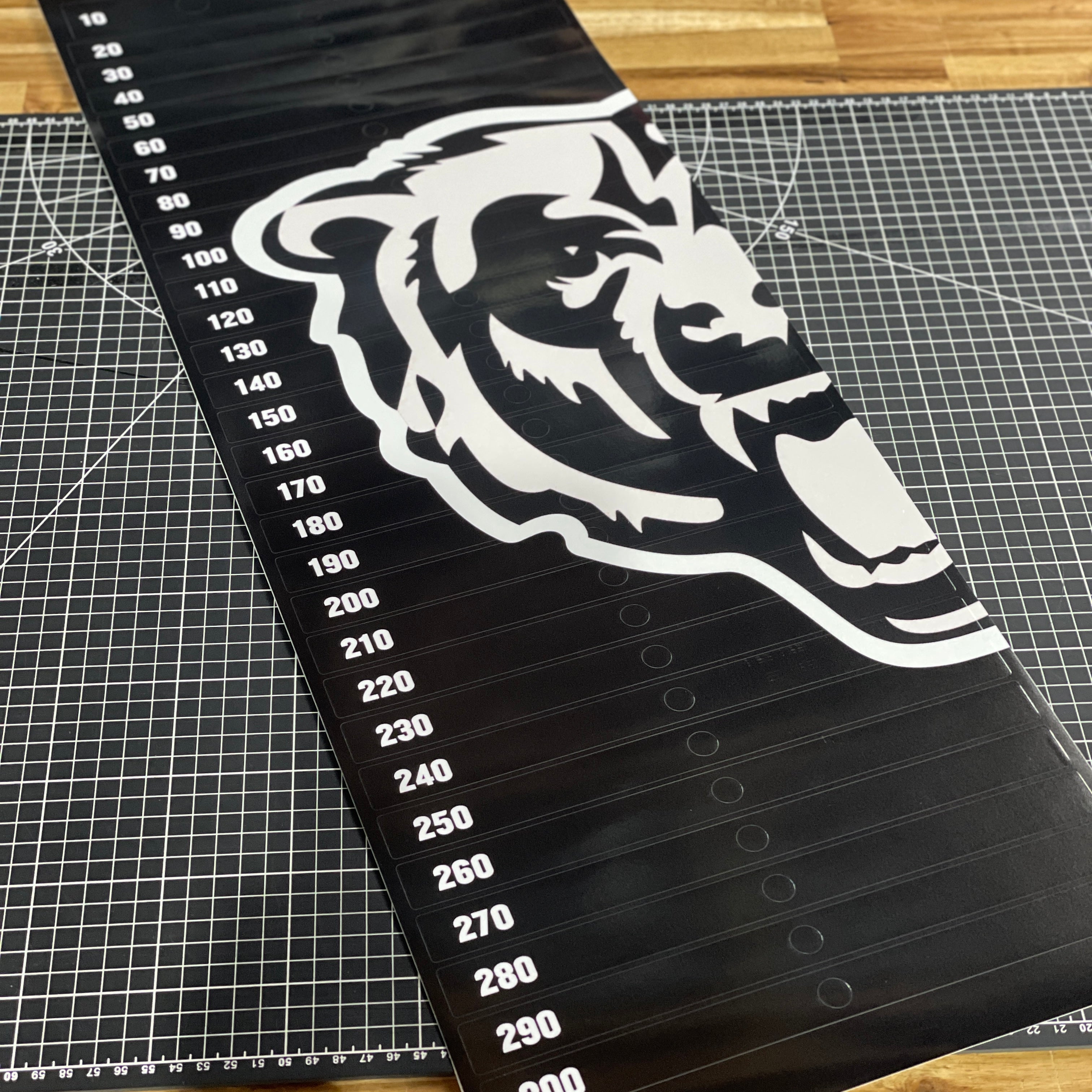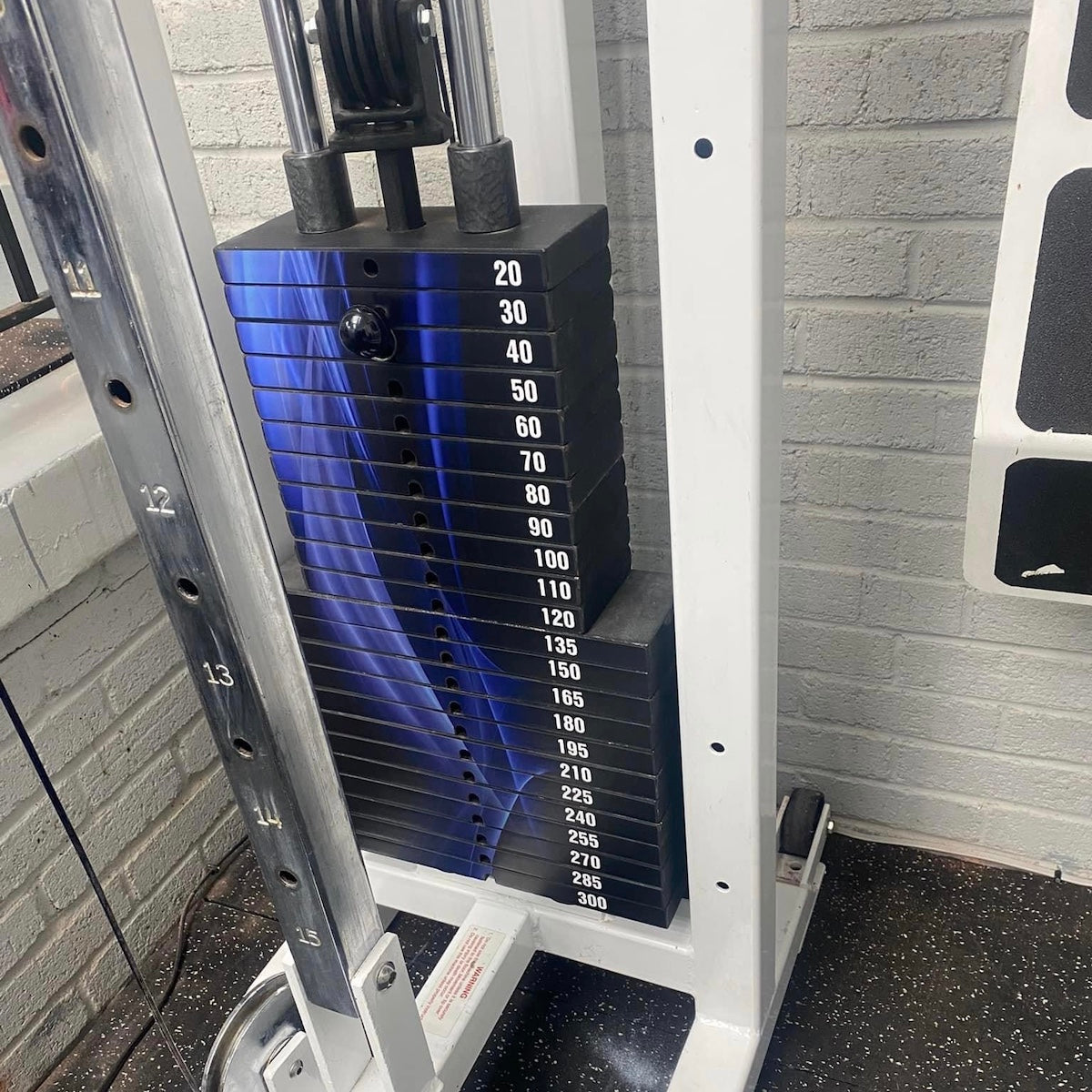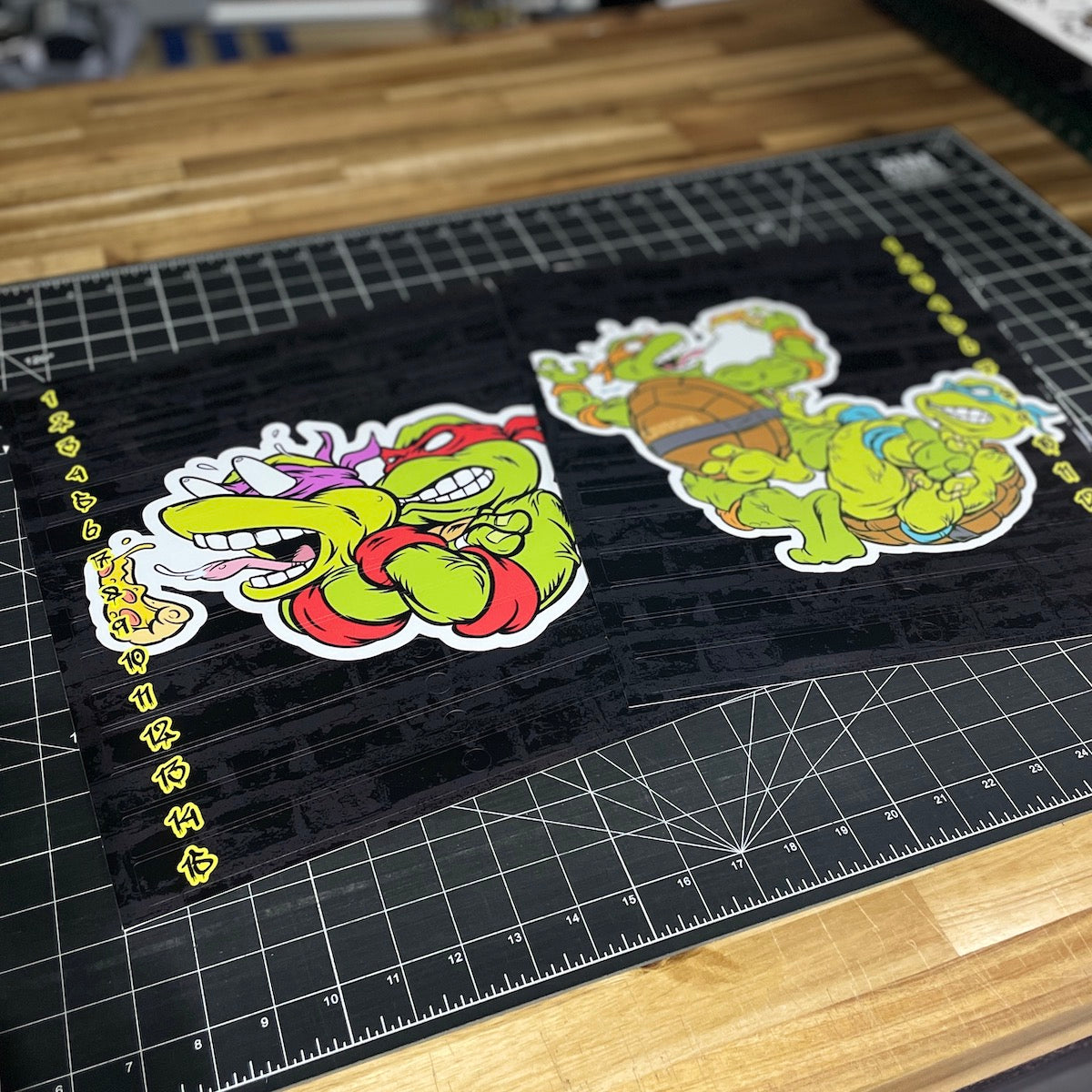 Weight Stack Decals
---
* Each contains one stack. If you want front and back covered or if you want both stacks of a functional trainer, change the quantity to two.
Are you looking to replace your weight stack numbers? Why use plain weight stack stickers when you can personalize your home gym with our new custom weight stack decals/stickers. Whether you have a commercial gym, basement gym, or garage gym, you can now add some your brand or gym logo to your weight machines!  
Add your gym logo, numbers, or just a badass design that goes with the theme of your gym!
These weight stickers are made of a strong durable vinyl material with an adhesive that is meant to last.
How it works:
You can select from one of our stock designs or select custom to use your own logo you provide.
Provide the following measurements in the checkout notes:

weight stack/machine brand and model and picture (if possible)
width of the weight stack
height of each weight plate
diameter the weight pin hole

any initial design thoughts
We will follow up with an email to discuss details of your design. We will not create custom logos for you. You can provide some artwork or a concept for us to use. 
*Keep in mind, if you provide an image and it is not high quality, it may become pixelated when scaled up in size. So the higher the resolution, the better. We will let you know if the image looks subpar before moving forward.
We will communicate via email during the design process. Final design will be shown to you with cutlines for final customer approval prior to print. Expect roughly 2 weeks max for design process and print.

What to expect:
When you receive your weight stack, it will be on one large sheet with each "bar" or plate individually cut out. 
Based on the measurements you provide, we will create each decal slightly smaller to account for any variation in size and ensure that no decal edges hang over the plate which would create problems with he decals being pulled off. We also round over the edges to help prevent the sticker from catching on anything and minimize the potential of peeling.
There will be a small gap between bars on the design. This is to allow the design to be properly cut and not be skewed when applied on the stack.
How to apply:
Make sure the weight stack is clean of any dust, dirt or debris.
Use rubbing alcohol to prep surface. DO NOT use household cleaners (they may have oils in them that prevent proper adhesion).
Peel the decal from the sheet and apply to the weight stack focusing on lining up the center hole first.
Press firmly to remove any air bubbles and ensure adhesive has good contact on the plates.
Over the next day or two, continue to rub the pieces to make sure they are sticking as they should. The bond gets stronger over time.


We ship all orders from our local facilities in Ohio. All orders are processed and shipping out within 2 - 7 business days based upon selected shipping rate.
We have a 30-day return policy, which means you have 30 days after receiving your item to request a return if you are not 100% satisfied with your order.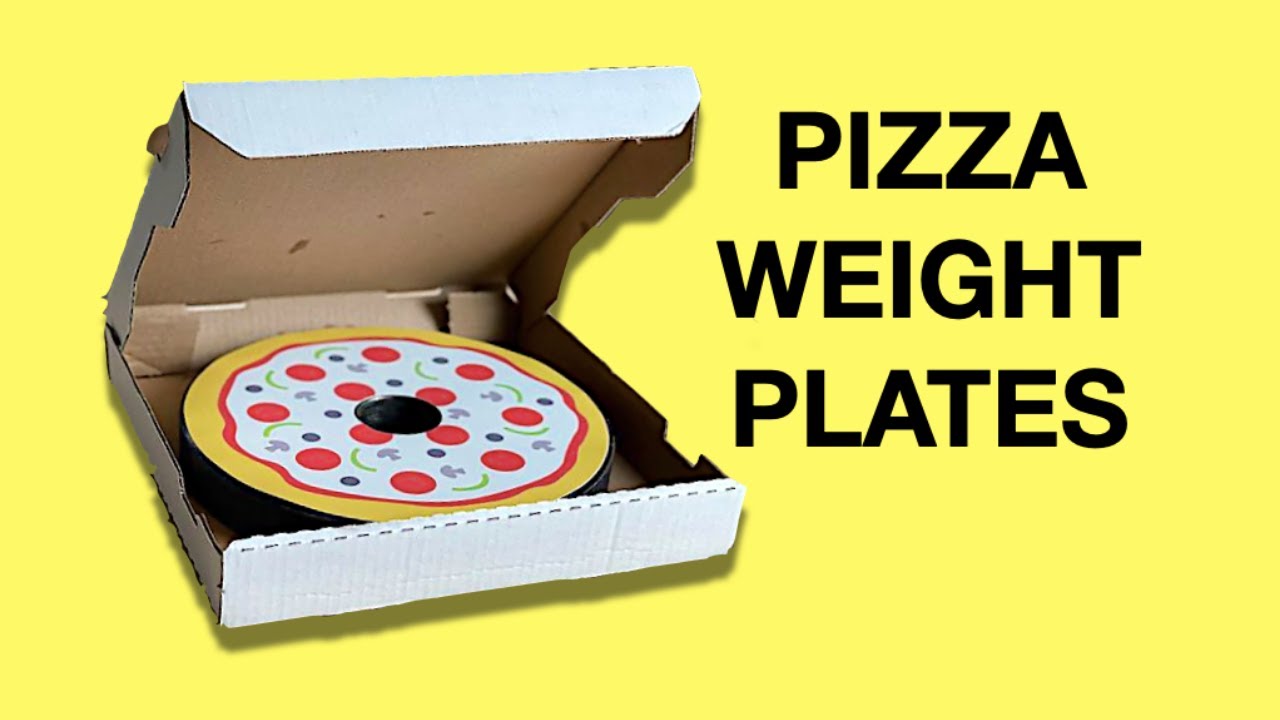 This product is rated 5.0 of 5.0 stars.
It has received 17 reviews.
Great communication and service, awesome product
This is probably the 5th thing I've gotten from Plate Snacks, and so far everything has been great. I got custom weight stack decals this time (old school Seattle Sonics Shawn Kemp and Gary Payton art/images), and they look awesome!
The owner worked with me through a few back and forth emails to get the design just right, letting me preview it before it went to print. I really appreciated the extra time on this custom order, as it made sure I was happy with the end result. It looks exactly as we discussed, so I'm a happy camper.
The adhesive also seems like very high quality, and just right for this kind of thing. I was worried at first if I didn't get the stickers in just the right location, that they wouldn't adhere well when I removed them to adjust. That wasn't a problem though, and everything is sticking perfectly.
Thanks again for the great product and custom work!
Great Experience - Custom Design
Wanted a custom logo for my Straydog lat tower weight stack. Ordered on a Saturday and was surprised I got an email and a mock up the same day. Very helpful in walking me through the process and asking me questions I didn't know I needed to ask. They even were nice enough to rescue me from my own mistake. Service is simply excellent. The stickers and finish are top notch. A really good value. Adds a nice extra something to the gym. Highly recommend. I am looking around the gym for other spots I might ask them to make me something.
Love my weight stack sticker
I am really happy with my sticker for me weight stack. I plan on buying them for all of the machines in the gym.
Amazing quality and finish
Was looking at these for a long time till I saw a review on Mat Pendergraph's YouTube channel and finally pulled the trigger. The vinyl print has a wonderful finish and has bought new life into my old functional trainer. Great product and great service. They got back to me the same day I ordered and shipped within a week.
A masterpiece
Could they look better? I doubt it. I always thought my gains were limited by my own strength, focus, and determination, when in fact I had just not put enough skulls on things. That goodness for plate snacks coming through and providing me with the extra skulls I needed to break through all my limits